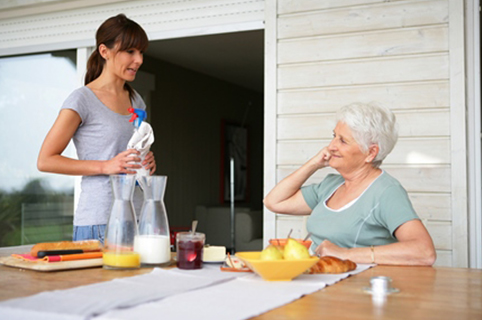 In-home respite includes services offered to carers and people with dementia within their home. Support for the person with dementia can be provided with or without the carer being present. In-home respite can provide direct support for the person with dementia including:
In-home Day Respite
In-home Overnight Respite
Social Support including companionship and assistance to pursue an activity of interest (e.g. gardening, woodwork, board games)
Domestic assistance
Personal care
Home modifications
Other flexible respite options.
In-home respite is available during the day or overnight, occasionally or on a regular basis depending on the needs of the carer and individual with dementia. Individuals with dementia who are reluctant to attend day centres and/or residential centres may feel more comfortable accepting in-home respite services. Download the In-Home Respite Checklist to help you choose the right In-Home Respite service provider to meet your needs, and visit MyAgedCare to find service providers in the your area.
Social support services can include:
visits to your home
helping you with shopping and other related activities
helping you to access support groups and recreational activities.
For more information visit My Aged Care.
Watch the video below of in-home respite experiences of people living with dementia and their carers/supporters.

Domestic assistance
General housework (cleaning, washing clothes, etc)
Gardening services
Home modifications (see below)
Meal preparation and/or deliveries.
Personal care / assistance with daily living skills
Showering
Dressing
Medication administration
Food preparation and feeding assistance.
Home Modifications
Modifying your home may improve the safety and independence of the person with dementia in the home and therefore the success of in-home respite. Services to assist with this are available via My Aged Care.
Improving the design of your home using Dementia enabling design features may also assist. See Dementia Enabling Environments for ideas on how to adapt your home.
Other Flexible Respite Options
Host Family Day Respite
Host Family Overnight Respite
Community Access – Individual respite
Mobile Respite